Divided Sweet Potato Casserole
By
Joshua Grotheer
JUMP TO RECIPE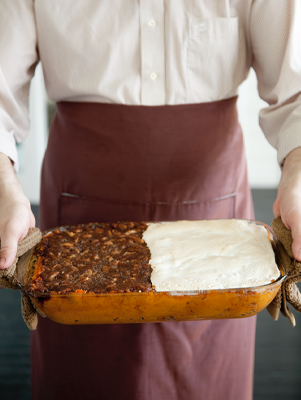 Difficulty: Easy
Prep time: 15 minutes
Cook time: 25-30 minutes
Servings: 8 to 10
Ingredients
4 cups sweet potatoes, cooked and mashed
1 cup sugar
2 eggs
1/3 cup heavy cream
½ teaspoon ground cinnamon
¼ teaspoon ground nutmeg
1 teaspoon vanilla extract
1 tablespoon fresh orange juice (optional)
½ cup butter, at room temperature
1½ cups pecans, roughly chopped
1 cup light brown sugar
¼ cup flour
1 (7.5-ounce) jar marshmallow fluff
Directions
Preheat oven to 350 degrees F. Coat a 13×9 inch baking dish with non-stick cooking spray; set aside.
In a large mixing bowl, add sweet potatoes, sugar, eggs, cream, spices, vanilla and orange juice (if desired). Stir until well incorporated. Pour sweet potato mixture into prepared baking dish.
In a small mixing bowl, combine butter, pecans, brown sugar and flour. Crumble over half of the sweet potato mixture. Spread marshmallow fluff over remaining half of potatoes. Bake for 25 to 30 minutes, or until center is heated through and the marshmallow fluff is light brown and bubbly.