Deviled Seafood Casserole
By
Paula Deen
JUMP TO RECIPE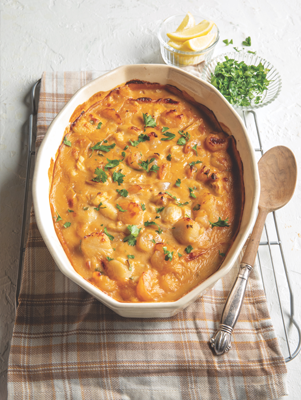 Featured in:
Love & Best Dishes
Difficulty: Medium
Prep time: 20 minutes
Cook time: 1 hour
Servings: 8
Ingredients
¾ cup butter, divided
1½ pounds fresh shrimp, peeled and deveined
1 pound fresh sea scallops
water
1 (1-pound) haddock fillet
½ cup plus 1 tablespoon all-purpose flour
1 cup evaporated milk
1 cup beef consomme or broth
⅓ cup whole milk
2 tablespoons cornstarch
2 tablespoons fresh parsley
4 teaspoons ketchup
1 tablespoon prepared horseradish
1 tablespoon fresh lemon juice
1 tablespoon Worcestershire sauce
1 teaspoon garlic powder
1 teaspoon dry mustard
1 teaspoon soy sauce
½ teaspoon salt
¼ teaspoon ground red pepper
½ cup dry sherry
chopped fresh parsley, for garnish
Directions
Preheat oven to 400˚F. Spray a 3-quart baking dish with cooking spray.
In a 12-inch skillet, melt ¼ cup butter over medium heat. Add shrimp and scallops, and cook, stirring frequently, until tender, 3 to 5 minutes. Remove from skillet.
In a large saucepan, pour water to a depth of 2 inches, and heat over medium heat until bubbles form around sides of pan. Add fish, and cook until fish flakes easily with a fork, 6 to 8 minutes. Remove from pan, and let cool slightly. Cut into bite-size pieces.
In the skillet, melt remaining ½ cup butter over medium heat, whisking constantly, until thick.
In a medium bowl, stir together milk and cornstarch. Add parsley, ketchup, horseradish, lemon juice, Worcestershire, garlic powder, dry mustard, soy sauce, salt, and red pepper. Add to sauce in skillet, and stir well. Add seafood, and stir in sherry. Pour into prepared pan.
Bake until bubbly, about 30 minutes. Garnish with parsley, if desired.