Deep-Fried Savory Chicken Pie
By
Paula Deen & Rodney Henry
JUMP TO RECIPE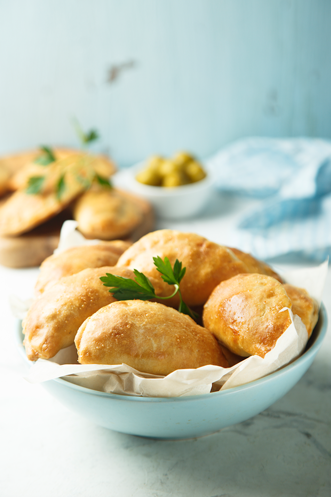 Difficulty: Medium
Prep time: 30 minutes
Cook time: 120 minutes
Servings: 8
Ingredients
Deep-Fried Savory Chicken Pie
oil
1 package buttermilk biscuits
1/4 cup butter, melted
water or heavy cream
Chicken
1 (5-lb) whole chicken
2 Vidalia onions, quartered
3 whole carrots, peeled and chopped
1 stick butter, softened
1/4 cup Salt
freshly ground black pepper
2 sprigs fresh rosemary
2 sprigs fresh sage
Rodney's Chicken Filling
4 red potatoes, sliced thin
1 cup carrots, sliced
3/4 cup corn
1/2 cup peas
2 1/2 cups heavy cream
1/2 cup all purpose flour
Directions
Deep-Fried Savory Chicken Pie
Add about 2 inches of oil to a heavy-bottomed pot or deep-fryer and heat to 350 °F.
Roll out the biscuits to measure 5 inches in diameter. Moisten edges with water or heavy cream. Add Rodney's Chicken filling to the center of the circle. Fold dough over the filling to form a half-moon shape and seal edges with the tines of a fork. Place each biscuit into the hot oil and fry until golden brown, about 4 to 6 minutes. Remove from the oil and place on paper towels to drain. Brush with 1/4 cup melted butter, transfer to a serving dish and serve.
Chicken
Preheat oven to 350 °F.
Stuff onions and whole carrots into the cavity of chicken. Rub salt, black pepper and 1 stick butter into skin of chicken. Place rosemary sprigs under the skin and place into a roasting pan. Place sage on top of chicken and roast for 1 1/2 hours.
Remove the chicken from the oven. Transfer to a cutting board and allow to cool.
Rodney's Chicken Filling
Place 1 cup carrots and potatoes on sheet pan and season with salt and pepper. Place into the preheated oven and roast until caramelized.
When chicken has cooled, discard the onions, carrots, sage and rosemary. Pull the chicken meat off the bones and cut into 1/2-inch pieces. Place into a large bowl with chicken juice from roasting pan along with potatoes, carrots, peas, corn, heavy cream and flour. Mix together well. *Cook's Note: Filling will be thick