Curried Squash and Apple Soup
By
Paula Deen
JUMP TO RECIPE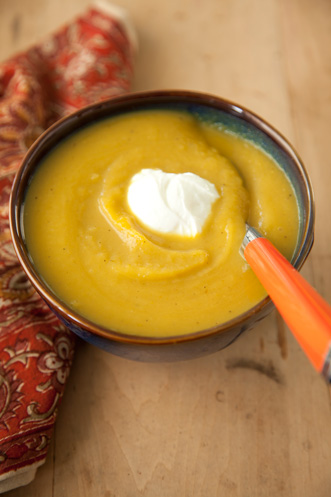 Difficulty: Easy
Prep time: 10 minutes
Cook time: 10 minutes
Servings: 10
Ingredients
2 large acorn squash
3 tablespoons divided olive oil
1 large chopped onion
3 cloves chopped garlic
1 tablespoon curry powder
2 peeled and chopped honey crisp apple
4 cups low sodium chicken broth
1 cup apple cider
for serving Greek yogurt
Directions
Heat oven to 375 °F.
Slice squash in half, remove seeds, and place on a sheet tray. Drizzle with 1 tablespoon olive oil and season with salt and pepper. Roast for 50 minutes to 1 hour, or until tender.
Heat remaining 2 tablespoons olive oil in a large saucepan. Add onions and garlic and sauté until tender, about 5 minutes. Sprinkle in curry powder and cook, while stirring, for 1 more minute. Add apples and sauté until soft, another 3 minutes. Stir in chicken broth, apple cider and the flesh from the squash, lower heat to medium, and simmer for 25 minutes. Puree until smooth using a hand blender. Taste for seasoning and adjust with salt and pepper. Serve in warm bowls with a dollop of yogurt.