Creamy Shrimp Bisque
By
Paula Deen
JUMP TO RECIPE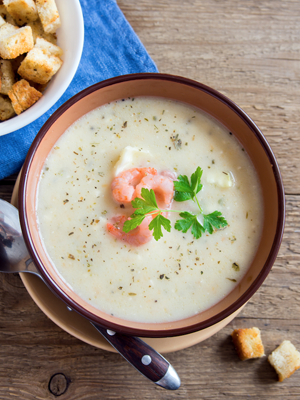 Difficulty: Easy
Prep time: 10 minutes
Cook time: 10 minutes
Servings: 10
Ingredients
2 stalks chopped celery
1 with top, chopped green onion
4 tablespoons butter
1 clove minced garlic
1/3 cup all purpose flour
2 cups half and half
3 1/2 cups fish stock
3 tablespoons chopped fresh parsley
8 oz cooked or lobster meat, chopped shrimp
3 slices white bread
Directions
In a medium saucepan, add celery, onions and butter, stirring occasionally. When tender add garlic and mix together. Stir in flour and half and half. Let simmer for 5 minutes.
Stir in fish stock and parsley. Cook for 10 minutes until it thickens. Add shrimp meat and let simmer for 10 minutes or until heated through. Stir occasionally. Add salt, to taste.
When ready, serve with croutons.
Homemade Croutons:
Preheat oven to 350 °F.
Cut bread with a heart shaped cookie cutter. Place onto a cookie sheet and bake until toasted.