Chunky Shrimp Bisque
By
Deen Brothers
JUMP TO RECIPE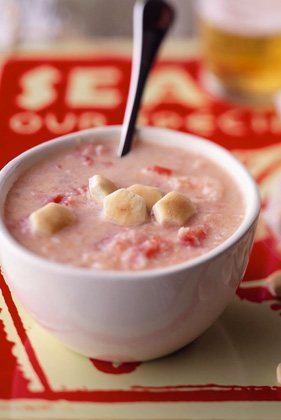 Featured in:
The Deen Bros. Recipes from the Road
Difficulty: Easy
Servings: 6
Ingredients
6 tablespoons unsalted butter
1 large onion
2 small clove s garlic
1 bay leaf
1 teaspoon dried thyme
3 tablespoons all-purpose flour
6 cups low-sodium chicken broth
2 cups canned chopped tomatoes
1 cup heavy cream
2 tablespoons dry sherry
2 pounds medium shrimp
Salt and freshly ground black pepper
Chopped fresh Italian parsley leaves optional
Oyster crackers optional
Directions
In a Dutch oven or large saucepan, melt butter over medium heat. Add the onion, garlic, bay leaf, and thyme. Cook about 10 minutes or until the onion is tender, stirring frequently. Add fl our; cook and stir for 2 minutes. Add broth, whisking until well combined. Add tomatoes; bring to a boil. Reduce heat and simmer, partially covered, for 30 minutes.
Add cream and sherry; simmer for 10 minutes. Add shrimp; cook about 2 minutes or until shrimp turn pink and are cooked through. Season to taste with salt and pepper.
Remove the bay leaf and puree half of the soup in a blender. Return the pureed soup to the pot and stir to combine. (Or use an immersion blender to puree the soup until it reaches a chunky, half-pureed consistency.) Heat through. Ladle the bisque into bowls and, if desired, garnish with chopped parsley and oyster crackers.