Creamy Chicken Rollups
By
Velva Rowe, Prizewinning Plates Winner
JUMP TO RECIPE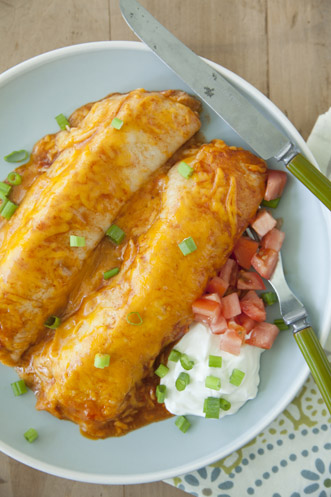 Difficulty: Easy
Prep time: 10 minutes
Cook time: 10 minutes
Servings: 10
Ingredients
4 cups cooked and shredded chicken
1 medium diced onion
1 tablespoon butter
12 oz cream cheese
2 cups salsa
1 tablespoon cumin
10 flour tortillas
1 can enchilada sauce
2 cups shredded cheddar cheese
2 sliced, optional green onions
1 small chopped, optional tomato
Directions
Preheat oven to 350 °F.
Melt butter or margarine over medium heat and sauté onion until translucent and slightly browned. Add chicken, cream cheese, salsa and cumin. Stir until combined and cream cheese is melted. Remove from heat.
Pour 1/3 of enchilada sauce in bottom of 9×13 baking dish. Fill each tortilla with 1/2 cup chicken mixture and roll like a cigar. Place seam side down on enchilada sauce. Cover with remaining enchilada sauce and top with shredded cheese.
Bake uncovered or 30-40 minutes or until hot and cheese is melted and golden brown. Garnish with sliced green onions and tomato.