Crab and Grits
By
Paula Deen
JUMP TO RECIPE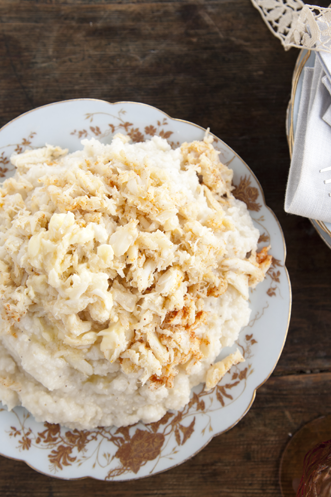 Difficulty: Easy
Prep time: 15 minutes
Cook time: 15 minutes
Servings: 15
Ingredients
1 cup grits hominy
salt
2 Cups Cooked lump crab meat
5 TBSP unsalted butter
optional cayanne pepper
Directions
Lowcountry cooks wash grits before cooking to remove any lingering bits of chaff. Put the grits in a heavy-bottomed 3-quart porcelain-enamel or stainless steel pot. Fill it 2/3 full with water and stir with your hand until it's milky. Let the grits settle to the bottom; the chaff will float. Carefully pour off the water. Repeat and then add 4 cups fresh water.
Bring slowly to a simmer over medium heat, stirring constantly, and keep stirring until the grits begins to thicken. Loosely cover and reduce the heat to medium low. Cook, stirring frequently at first and then occasionally as it thickens, until tender and quite thick but creamy, about an hour for regular grits, at least 30 minutes for quick grits. Add salt to taste and simmer 3-5 minutes longer. Keep hot.
Meanwhile, pick over the crabmeat for bits of shell. When the grits is done, melt the butter in a sauté pan over medium heat. Add the crab and toss until it's hot through and the butter has absorbed its flavor. Taste and season as needed with salt and a little cayenne (if liked). Let it warm another half a minute and turn off the heat.
Divide the grits among 4 warm serving plates, spoon the crab and butter evenly over it, and serve at once.