Cousin Johnnie's Caramel Apple Cheesecake
By
Paula Deen
JUMP TO RECIPE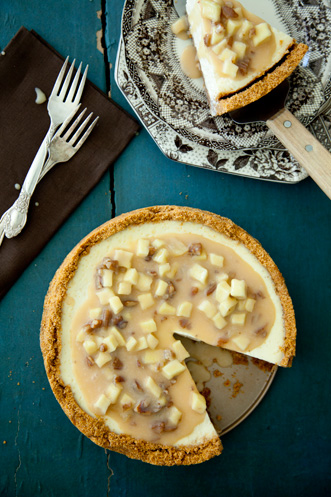 Difficulty: Medium
Prep time: 30 minutes
Cook time: 30 minutes
Servings: 30
Ingredients
3 cups (about 22 crackers) graham cracker crumbs
2 sticks plus 1 tablespoon melted and divided butter
3 cups divided sugar
4 (8 oz) packages softened cream cheese
2 tablespoons cornstarch
1 (16 oz) container sour cream
1/2 cup freshly squeezed orange juice
1/2 teaspoon vanilla extract
5 eggs
1 1/2 lbs (about 3 large) peeled, cored, and cut into 1/2-inch cubes golden delicious apples
1/2 cup chopped pecans
1/2 cup heavy cream
Directions
Preheat the oven to 350 °F. Wrap the bottom and sides of a 10-inch springform pan tightly with foil to prevent moisture from the water bath from seeping into the cheesecake
Crust:
In a food processor, mix the graham cracker crumbs, 9 tablespoons tablespoons butter and 1/2 cup sugar. Press the mixture into the bottom and halfway up the sides of the prepared pan. Bake the crust for 10 minutes, then remove it from the oven to cool completely.
Filling:
In a food processor or with an electric mixer, mix the cream cheese, 1 1/2 cups sugar and cornstarch until smooth. Add the sour cream, orange juice and vanilla and blend until smooth. Beat in the eggs, one at a time, blending until just combined. *Cook's Note: It's important to blend well with no clumps as this will make the filling a smoother consistency when baked.
Pour the filling into the crust. Put a roasting pan on a rack in the center of the oven and transfer the cheesecake to the pan. Fill the roasting pan with hot water to come halfway up the sides of the cake pan and cover it loosely with foil. Bake until the center moves only slightly when the cake pan is shaken, about 1 hour and 45 minutes. Check the water level about 1 hour into the baking, adding more water, if needed. Carefully remove the pan from the oven and transfer the cake pan to a wire rack to cool. Refrigerate overnight.
Topping:
Melt the stick of butter in a large skillet over high heat. Add the apples and pecans and cook, stirring, until they are coated with butter, about 2 minutes. Add 1 cup sugar and stir until the sugar dissolves and the liquid comes to a boil, about 3 minutes.
Using a slotted spoon, transfer the apples and pecans to a bowl. Reduce the heat to medium-high and cook the remaining liquid, stirring often, until it turns a deep amber, about 6 minutes. Remove the skillet from the heat to stop the cooking and add the cream. Be careful, as the cream may splatter. Return the skillet to the heat and bring it to a boil, whisking constantly. Remove the sauce from the heat and stir in the apples and pecans. Allow to cool until lukewarm.
Spread the caramel-apple mixture evenly over the top of the cheesecake. Refrigerate until ready to serve. Use a knife dipped in hot water to cut through the cheesecake.