Corned Beef with Root Vegetables
By
Deen Brothers
JUMP TO RECIPE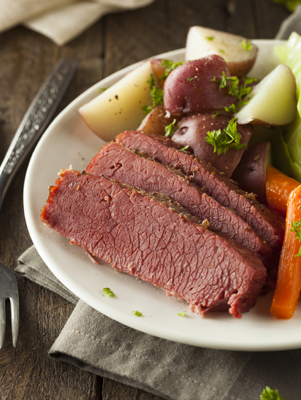 Difficulty: Easy
Prep time: 10 min
Cook time: 3 hr 30 min
Servings: 4 to 6 servings
Ingredients
One 4-pound brisket corned beef
2 teaspoons mustard seeds
1 bay leaf
Pinch red chili powder
One 12-ounce bottle of beer
2 carrots
2 rutabagas
2 turnips
1 large yellow onion
Dijon mustard
Directions
Add the corned beef with its spice packet to a large Dutch oven. Add the mustard seeds, bay leaf and chili powder. Pour in the beer and cover the corned beef under 2 inches of water. Bring to a boil, then reduce to a simmer, cover with a lid, turn heat to low and cook for 3 hours.
Add the carrots, rutabagas, turnips and onions after 3 hours, and cook uncovered until the vegetables are tender, another 30 minutes.
Remove the corned beef to a cutting board and slice into 1/4-inch-thick pieces against the grain of the meat. Place on a platter with the vegetables and some Dijon mustard for serving.