Cornbread Dressing With Sausage
By
Suzette and Amy, The Sweet and Savory Sisters
JUMP TO RECIPE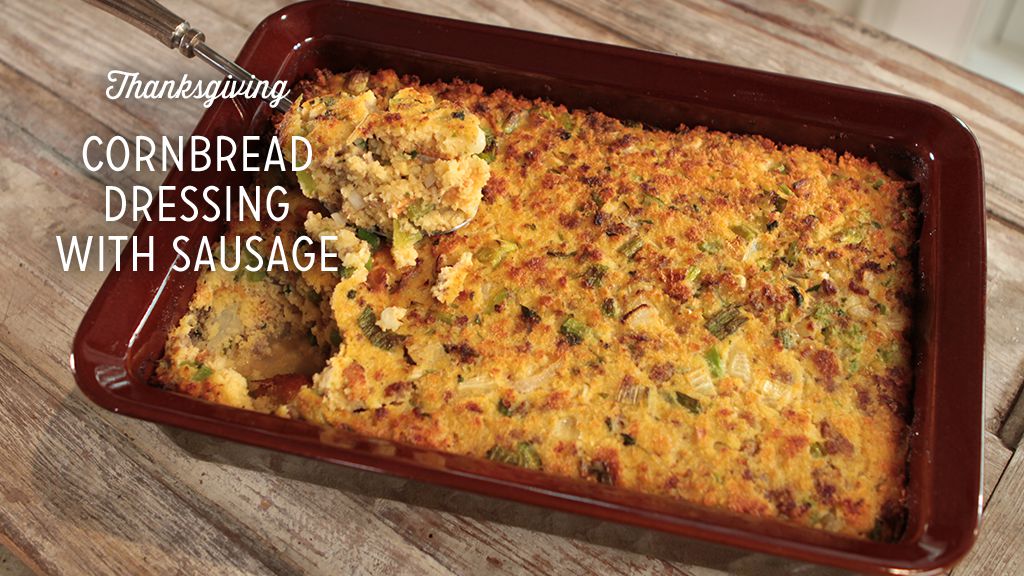 Difficulty: Easy
Prep time: 20 minutes
Cook time: 20 minutes
Servings: 20
Ingredients
2 cups self rising cornmeal
1 cup self rising flour
1 1/2 cups buttermilk
1/4 cup vegetable oil
1 lb bulk breakfast sausage
3 sticks (1 stick softened, for the cornbread) butter
3 chicken bouillon cubes
4 stalks chopped (up to 5 stalks) celery
1 large chopped onion
8 white and green parts chopped green onions
3 tablespoons chopped parsley
2 cloves finely chopped garlic
3 cups (up to 4 cups) chicken stock
to taste salt
to taste pepper
8 eggs
Directions
For cornbread: Preheat oven to 350 °F. Combine cornmeal and flour in a bowl and 1 stick of softened butter, vegetable oil, buttermilk and 4 eggs in another bowl. Add the wet ingredients to the dry ingredients and mix well.
Pour batter into a greased 13x9x2 baking dish and bake for approximately 25 minutes or until golden brown. Remove from oven and let cool.In a large bowl, crumble corn bread, then set aside.
In a large pan over medium heat, add sausage. Brown for 5 minutes, then remove from pan, leaving some of the drippings. Add the butter and let melt. Add the chicken bouillon, celery and onion and cook until translucent, about 5-10 minutes. Add the green onions, garlic and parsley. Stir and cook for 2-3 minutes more.
Pour vegetable and sausage mixture over crumbled cornbread. Add chicken stock, stir to combine, then add salt and pepper to taste. In a separate bowl, lightly beat 4 eggs along with a little bit of the cornbread mixture.
Add eggs to cornbread/sausage mixture, then pour everything into a 13x9x2 greased baking dish. Bake at 350 °F until dressing is cooked through, about 45-60 minutes.