Collard Green Won Tons
By
Paula Deen
JUMP TO RECIPE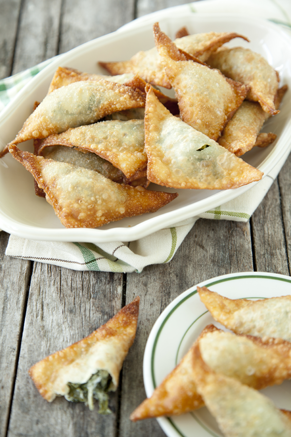 Difficulty: Medium
Prep time: 15 minutes
Cook time: 15 minutes
Servings: 15
Ingredients
1/4 lb or smoked turkey wings, or smoked neck bones ham hocks
1 teaspoon Paula Deen's House Seasoning
1 teaspoon Paula Deen's Seasoned Salt
1 tablespoon Paula Deen's Hot Sauce
1/2 large bunch collard greens
4 tablespoons butter
dash olive oil
1 (8 oz) package softened cream cheese
70 to 80 wonton wrappers
Directions
In a large pot, bring 1 1/2 quarts water to a boil and add smoked meat, House seasoning, seasoned salt, dash olive oil and hot sauce. Reduce heat to medium and cook for 1 hour. In the meantime, wash collards thoroughly. Remove the thick stem that runs down the center of the greens by holding the leaf in your left hand and stripping the leaf down with your right hand. Stack 6-8 leaves on top of each other, roll up and slice into 1/2 to 1 inch thick slices. Place greens in pot with cooked smoked meat. Add butter after greens. Cook for 46 to 60 minutes, stirring occasionally. When done, taste and adjust seasoning.
Stuffing:
Mix collard greens and softened cream cheese in a mixing bowl.
Assembly:
Place mixture in center of wrapper and shape into a triangle. Place assembled wantons in 350 °F peanut oil for 2-3 minutes or until golden brown. Drain on paper towels. Best if served immediately.