Chocolate Heaven Brownie Pie
By
Kelli Murakami, Prizewinning Plates Winner
JUMP TO RECIPE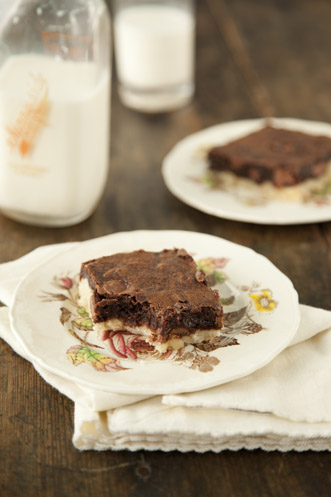 Difficulty: Easy
Prep time: 30 minutes
Cook time: 45 minutes (4 hours in refrigerator or overnight)
Servings: 12-15
Ingredients
1/2 lb room temperature butter
2 cups powdered sugar
2 teaspoons vanilla extract
2 cups all purpose flour
1/4 teaspoon baking powder
1 cup chopped macadamia nuts
1 box family-size, additional ingredients per box brownie mix
1 cup milk chocolate chips
2 containers defrosted in refrigerator sweetened whipped topping
chocolate syrup
Directions
Preheat oven to 350 °F.
In a bowl, combine butter, powdered sugar, vanilla extract, all-purpose flour, baking powder and chopped Macadamia nuts for crust and mix together until combined. Do not over-mix, or crust will be hard. Pour mixture into a greased 9×13 pan and gently press down to form crust. Bake for 10 minutes. Note: crust will not be cooked completely as it will be baked again with filling.
In a separate bowl, combine all ingredients for brownie mix according to box directions until well-combined. Add 1 cup chocolate chips and mix to combine.
Take out crust from oven and pour brownie mixture into crust and return to oven for an additional 20-25 minutes, or until brownie filling is cooked, or toothpick comes out clean. Brownie filling should be a little fudge-y. Cool completely.
Once cooled, add the two containers of sweetened whipped topping and drizzle with chocolate syrup. Refrigerate for at least 4 hours or overnight for brownie filling to completely set.
Cut into squares and enjoy.