Chocolate Cream Puffs With Hazelnut Filling
By
Paula Deen
JUMP TO RECIPE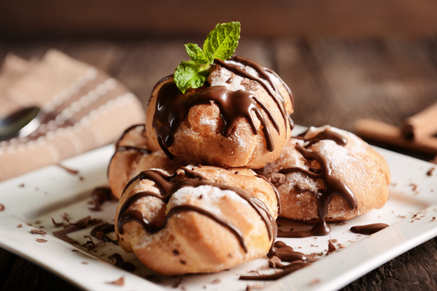 Difficulty: Medium
Prep time: 1 hour
Cook time: 50 minutes
Servings: 10 cream puffs
Ingredients
1 cup water
1/2 cup butter
1/8 teaspoon salt
1 cup all purpose flour
2 tablespoons dutch-processed cocoa
1/4 teaspoon ground cinnamon
4 large eggs
2 cups for garnish sliced fresh strawberries
1 cup for garnish chopped hazelnuts
for garnish fresh mint leaves
3 cups hazelnuts
1/2 cup divided confectioner's sugar
5 oz melted milk chocolate
pinch of salt
Directions
Preheat the oven to 375 degrees F. Line a baking sheet with parchment paper.
In a medium saucepan, combine the water, butter, and salt. Bring to a rolling boil over medium-high heat. Using a wooden spoon, beat in the flour, cocoa, and cinnamon, stirring constantly until the mixture forms a ball. Remove the pan from the heat and let cool 5 minutes.
Beat in the eggs, 1 at a time, at medium speed with an electric mixer until the mixture is smooth. Spoon or pipe the dough into 10 (2-inch) mounds onto the prepared baking sheet. Bake until puffed and golden brown, 30 to 33 minutes. Set aside to cool.
Cut the cream puffs in half horizontally. Remove the soft dough from inside. Spoon the Homemade Hazelnut Spread into the bottoms of the cream puffs. Top each puff evenly with strawberries and sprinkle with hazelnuts. Cover with the tops of the cream puffs. Garnish with fresh mint leaves, if desired.
Homemade Hazelnut Spread:
Toast the hazelnuts at 350 degrees F until golden brown (more color means a stronger flavor). This may take 7 to 10 minutes.
Immediately place the toasted hazelnuts in a food processor with 1/4 cup confectioners' sugar. Grind the hazelnuts until liquefied. This process will take approximately 5 minutes and must be stirred half way through to insure proper release of their oils (the mix will be very hot, use a metal spatula). Continue grinding until a liquid has formed. Once in liquid form, add the milk chocolate, salt, and remaining 1/4 cup confectioners' sugar. Continue grinding for 1 minute until completely mixed. Let the hazelnut spread cool completely.
Once cooled, place the hazelnut paste in a mason jar for immediate or future use. The product will not spoil if left unrefrigerated.