Chocolate Bourbon Pecan Cake
By
Paula Deen
JUMP TO RECIPE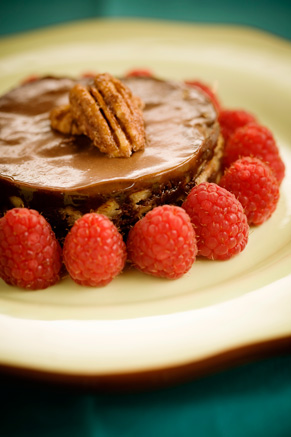 Difficulty: Medium
Prep time: 45 minutes
Cook time: 25 minutes
Servings: 10-12
Ingredients
8 1/2 (1 oz) squares semi-sweet chocolate
1/2 cup butter
3 separated eggs
1/2 cup sugar
1/4 cup bourbon
1/4 cup flour
1 1/2 cups chopped pecans
1 cup heavy cream
1 1/4 cups semisweet chocolate chips
Directions
Preheat oven to 325 °F.
Grease and flour a 9-inch springform pan. Melt the chocolate and butter in a small bowl over a double boiler. Remove from heat, and set pot aside leaving the bowl on top of pot.
Whisk egg yolks and half of the sugar in a metal mixing bowl. Place bowl over slightly simmering water, and whisk until yolks reach 140 °F. Remove bowl from heat and beat egg and sugar mixture with an electric mixer to a ribbon stage. Add the bourbon to the chocolate mixture, then fold the yolk and sugar mixture into the chocolate mixture. Mix flour with pecans and fold into chocolate mixture.
Using an electric mixer, beat egg whites and half of the remaining sugar to form soft peaks, then fold into chocolate mixture. Pour batter into prepared pan and bake for 20 to 25 minutes. Allow cake to cool in pan and then place in the freezer for at least 2 hours. Once it's frozen, remove sides of spring pan. Invert cake onto a wire rack and remove bottom of spring form pan.
Prepare ganache by bringing heavy cream to a boil and pouring cream over chocolate chips in a bowl. Whisk until completely smooth. Set wire rack with cake on top of sheet pan. Pour warm lukewarm ganache over cake, coating cake completely, recoating if necessary. Gently jiggle wire rack to help drain excess ganache. Remove cake from wire rack with spatula and place on a serving plate.