Chicken Cornbread Casserole
By
Paula Deen
JUMP TO RECIPE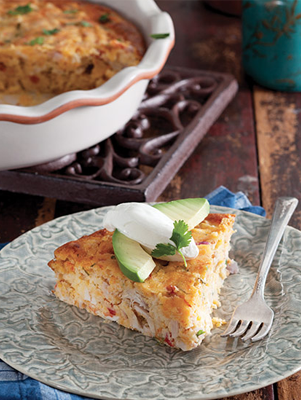 Featured in:
Cooking with Paula Deen Magazine
Difficulty: Easy
Prep time: 10 minutes
Cook time: 30 minutes
Servings: 6
Ingredients
1½ cups shredded cooked chicken
1 (10-ounce) can diced tomatoes with green chiles, drained
1 cup shredded Cheddar cheese
½ cup sour cream
¼ cup chopped fresh cilantro
1 small red onion, diced
1 jalapeño, seeded and chopped
1 tablespoon cumin
1 lime, juiced
1 (8.5-ounce) box corn muffin mix
⅓ cup whole milk
1 large egg, lightly beaten
sour cream, for topping
avocado, for topping
fresh cilantro, for topping
Directions
Preheat oven to 375˚F. Spray a 10-inch round baking dish with cooking spray.
In a large bowl, stir together chicken, tomatoes, cheese, sour cream, cilantro, onion, jalapeño, cumin, and lime juice.
In another large bowl, whisk together muffin mix, milk, and egg. Stir chicken mixture into muffin mixture until well combined. Pour mixture into prepared pan.
Bake until golden brown, about 30 minutes. Let stand for 5 minutes before serving. Serve with toppings.
Kitchen Tip: If you have a favorite cornbread recipe, omit the corn muffin mix, milk, and egg, and stir the chicken mixture into your own cornbread batter; bake as directed.