Chicken a la King
By
Paula Deen
JUMP TO RECIPE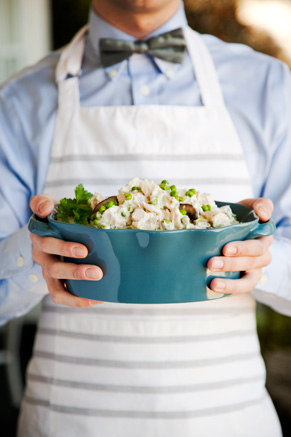 Difficulty: Easy
Prep time: 10 minutes
Cook time: 20 minutes
Servings: 4-6
Ingredients
6 tablespoons butter
1 cup sliced, (more or less for taste) mushrooms
3 tablespoons flour
4 cups heavy whipping cream
2 to 3 cups depending on desired consistency water
3 boned, cooked, and cubed chicken breasts
2 tablespoons cooking sherry
1 cup cooked green peas
2 (6 oz) boxes cooked rice
to taste salt and pepper
Directions
In a large skillet, heat butter. Add mushrooms and sauté until tender over medium heat (only a few minutes). When mushrooms are finished, add flour to the skillet. Slowly stir in the whipping cream and water. The consistency of the sauce can be altered by adding more or less water. Stir constantly until the sauce is thickened.
Add chicken, and heat the mixture until boiling. Cover, and simmer for about 5 minutes. Add sherry, still stirring, as well salt and pepper to taste. Again, more or less sherry can be used.
Lastly, stir in the peas and serve over rice.