Paula Deen Cuts the Fat Cheeseburger Meat Loaf
By
Paula Deen
JUMP TO RECIPE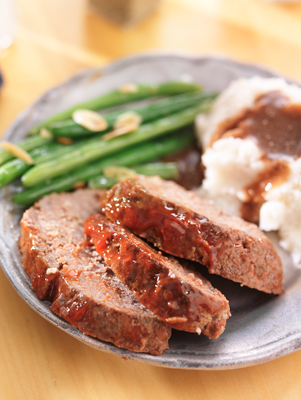 Featured in:
Paula Deen Cuts the Fat
Difficulty: Easy
Prep time: 10 minutes
Cook time: 65 minutes
Servings: 8
Ingredients
1 pound lean ground beef
¼ pound lean ground pork
1 cup shredded Monterey Jack cheese
½ cup onion
⅓ cup dried bread crumbs
2 large egg whites
2 tablespoons plus ⅓ cup regular or reduced-sugar ketchup
2 tablespoons mustard
1 teaspoon garlic powder
¾ teaspoon salt
¼ teaspoon freshly ground black pepper
Directions
Preheat the oven to 350°F. Lightly grease a baking rack with cooking spray and set it over a rimmed baking sheet lined with aluminum foil.
In a large bowl, combine the beef, pork, Monterey Jack, onion, bread crumbs, egg whites, 2 tablespoons of the ketchup, the mustard, garlic powder, salt, and pepper. Use your hands and make sure you mix the ingredients really well so they are thoroughly combined. Shape into a loaf about 9 by 5 inches.
Place the loaf on the prepared baking rack. Brush the outside of the meat loaf with the remaining ¹⁄3 cup ketchup. Bake for 60 to 70 minutes, until the internal temperature registers 155°F to 160°F on an instant- read thermometer. Let the loaf cool for 10 minutes before slicing and serving.