Candy Snack Cake
By
Paula Deen
JUMP TO RECIPE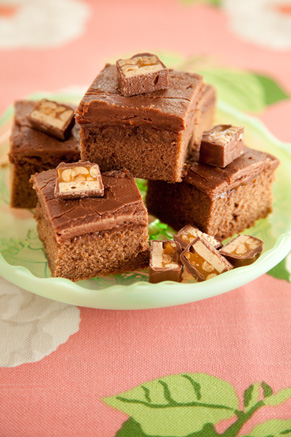 Difficulty: Easy
Prep time: 15 minutes
Cook time: 22 minutes
Servings: 8
Ingredients
1 cup softened, plus 1/4 cup for frosting butter
1 cup sugar
4 large eggs
1 teaspoon vanilla extract
1 cup all purpose flour
1/4 cup plus 2 tablespoons for frosting unsweetened cocoa powder
1/2 teaspoon baking powder
1/4 teaspoon salt
3 tablespoons buttermilk
2 cups confectioner's sugar
3 cut into pieces candy bars
Directions
Preheat oven to 350 °F. Line 9-inch baking pan with heavy-duty aluminum foil.
In a large bowl, combine butter and sugar. Beat at medium speed with an electric mixer until fluffy. Add eggs, 1 at a time, beating well after each addition. Beat in vanilla extract.
In a small bowl, combine flour, cocoa, baking powder and salt. Gradually add to butter mixture, beating until combined. Spoon batter into prepared pan.
Bake for 22 minutes or until a wooden pick inserted in center comes out clean. Spread chocolate frosting over hot cake. Let cool completely. Cut into squares and serve with whipped cream, if desired.
Chocolate Frosting:
In a medium saucepan, melt butter over medium-low heat. Add cocoa, buttermilk and 1 cup confectioner's sugar. Stir in candy bars and allow to melt. Stir in remaining confectioner's sugar and immediately spread over hot cake.
Yield: 1 cup