Buttery Pumpkin Pie Fudge
By
Paula Deen
JUMP TO RECIPE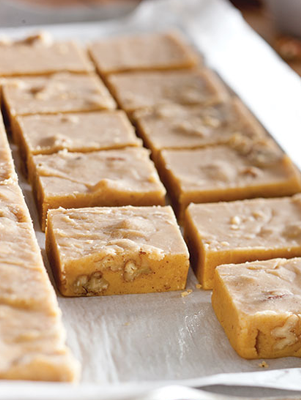 Featured in:
Cooking with Paula Deen Magazine
Difficulty: Easy
Prep time: 30 minutes
Cook time: 20 minutes
Servings: 24
Ingredients
12 tablespoons butter
2 cups granulated sugar
1 cup firmly packed brown sugar
⅔ cup evaporated milk
½ cup canned pumpkin
2 teaspoons pumpkin pie spice
½ teaspoon ground cinnamon
⅛ teaspoon ground nutmeg
1 (12-ounce) package white chocolate chips
1½ teaspoons vanilla extract
1 cup chopped toasted pecans (optional)
Directions
Line a 13×9-inch baking pan with parchment paper, letting excess extend over sides of pan; spray parchment with nonstick cooking spray.
In a large heavy saucepan, bring butter and next 7 ingredients to a boil over medium heat. Cook, stirring constantly, until mixture reaches 237˚F on a candy thermometer. Remove from heat, and stir in white chocolate and vanilla until melted and smooth. Stir in pecans, if desired.
Pour mixture into prepared pan, and let cool completely. Using excess parchment as handles, remove from pan before cutting into squares. Refrigerate in an airtight container for up to 5 days.
Cook's Note: A 15-ounce can of pumpkin contains a bit less than 2 cups.