Bobby's Lighter Sweet Potato-Ginger Biscuits
By
Deen Brothers
JUMP TO RECIPE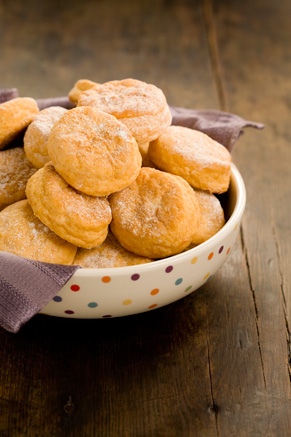 Difficulty: Easy
Prep time: 10 min
Cook time: 15 min
Servings: 12
Ingredients
1 cup mashed cooked sweet potatoes
1/4 cup plain reduced-fat Greek style yogurt
1 tablespoon sugar-free pancake syrup
2 cups all-purpose flour
2 tablespoons light brown sugar
1 tablespoon chopped candied ginger
2 1/2 teaspoons baking powder
1 1/2 teaspoons pumpkin pie spice
1/2 teaspoon salt
5 tablespoons cold butter
1/4 cup fat-free milk
Directions
Preheat the oven to 400°F. Spray a large baking sheet with nonstick spray.
Combine the potatoes, yogurt, and syrup in a medium bowl until well mixed.
Whisk together the flour, sugar, ginger, baking powder, pumpkin pie spice, and salt in a large bowl. With a pastry blender, cut in the butter until the mixture is crumbly. Add sweet potato mixture, then milk, until dry ingredients are just moistened. Gently knead dough 5 – 6 times, until a soft dough forms. Do not over mix. Turn dough out onto a lightly floured surface. With a floured rolling pin, roll dough to 1/2-inch thickness.
With a 2 -inch round cookie cutter, cut dough into 12 biscuits. Place dough on baking sheet. Discard any remaining scraps. Bake, until the bottom of biscuits are lightly browned, about 12 minutes. Do not over bake. Transfer to wire rack to cool 10 minutes. Serve warm or at room temperature.
Test Kitchen Tip: One large sweet potato (about 3/4 pound), peeled and cooked, will yield about 1 cup mashed.