Bobby's Lighter Sweet Potato Bake
By
Bobby Deen
JUMP TO RECIPE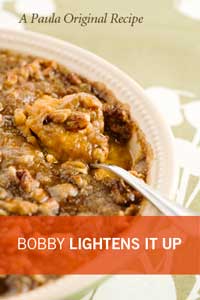 Difficulty: Easy
Prep time: 10 minutes
Cook time: 10 minutes
Servings: 10
Ingredients
4 lbs peeled and cubed sweet potatoes
1/4 cup fat-free milk
1/4 cup maple syrup
1 lightly beaten egg
1 teaspoon vanilla extract
1/4 cup raisins
1/4 cup unsweetened flaked coconut
1 teaspoon divided salt
1/2 cup packed brown sugar
1/4 cup all purpose flour
1/4 cup chopped pecans
1 tablespoon softened butter
Directions
Bring the potatoes and enough cold water to cover to a boil in a large saucepan.
Reduce the heat and simmer until fork-tender, about 20 minutes.
Drain and cool. Mash the potatoes in a large bowl until smooth.
Preheat the oven to 375 °F. Spray a 2 1/2-quart baking dish with nonstick spray.
In a small bowl, whisk together the milk, syrup, egg and vanilla in a small bowl.
Add the milk mixture to the potatoes, stirring to combine well. Stir in the raisins, coconut and 3/4 teaspoon salt until blended.
Spoon the mixture into the pan.
To make the topping, combine the brown sugar, flour, pecans, butter and 1/4 teaspoon salt in a medium bowl. Sprinkle the topping over the potatoes and bake, uncovered, until the center is hot and the topping is browned, 25 – 30 minutes.