Bobby's Lighter Mushroom Burger
By
Deen Brothers
JUMP TO RECIPE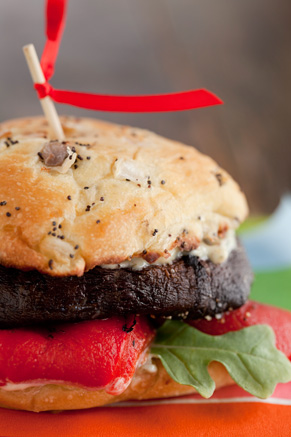 Difficulty: Easy
Prep time: 10 min
Cook time: 20 min
Servings: 4
Ingredients
4 large portobello mushrooms caps
3 tablespoons balsamic vinegar
1 tablespoon extra-virgin olive oil
1/2 teaspoon salt
1/4 teaspoon coarsely ground black pepper
4 large slices whole-grain peasant bread
1/2 cup light mayonnaise
1 tablespoon fresh chopped rosemary
1 cup baby arugula
1 large tomato
1 small red onion
1/2 cup roasted red pepper strips
Directions
Preheat grill or broiler.
Place mushrooms in a baking dish or pie plate. Whisk together the vinegar, oil, salt, and pepper until blended. Brush mushrooms with the vinegar mixture; let stand 15 minutes.
Place the mushrooms, rounded side down, on the grill rack and grill until tender, 4 – 6 minutes per side. Transfer to a plate. Place bread slices on the grill rack and grill until lightly browned, about 2 minutes per side.
Meanwhile, combine the mayonnaise and rosemary in a small bowl until blended. Brush bread slices with the mayonnaise mixture. Layer half the slices with the mushrooms, arugula, tomatoes, onion, and red pepper strips Top with remaining bread slices. Serve immediately.
Test Kitchen Tip: To broil the mushrooms, follow step two. Place mushrooms on a broiler rack and broil 4 inches from heat source, until tender and golden, about 4 minutes on each side.