Blueberry Dumplings
By
Paula Deen
JUMP TO RECIPE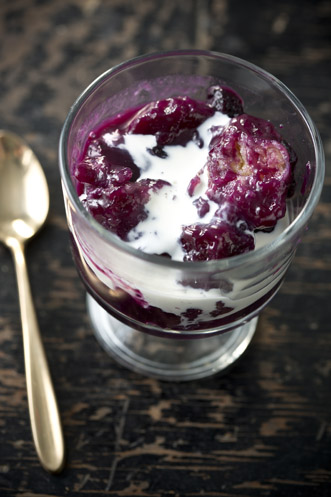 Difficulty: Easy
Prep time: 10 minutes
Cook time: 30 minutes
Servings: 8
Ingredients
2 cup water
1 quart fresh or frozen blueberries
1/4 cup milk
1 stick softened butter
1 teaspoon baking powder
1 tablespoon plus 1 1/2 cups granulated sugar
1 cup all purpose flour
or fresh cream, for serving vanilla ice cream
1 pinch salt
Directions
Stir flour, 1 tablespoon sugar, baking powder, and salt together in a bowl. Cut butter into dry ingredients, using a pastry cutter or fork. Add milk to form dough.
Mix berries, the 1 1/2 cups sugar, and water together in a saucepan and bring to a boil.
Drop dumplings into hot boiling berries by the tablespoonful.
Cover pot, reduce heat, and cook slowly for 20 to 30 minutes. Do not remove lid before 20 minutes has passed. Do not stir dumplings.
Serve with vanilla ice cream or fresh cream.