Biscuit and Blue Cheese Bread Pudding
By
Paula Deen
JUMP TO RECIPE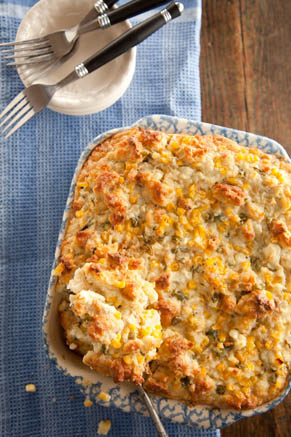 Difficulty: Easy
Prep time: 15 minutes
Cook time: 60 minutes
Servings: 8-10
Ingredients
1 stick plus more for baking dish butter
2 cups crumbled blue cheese
2 medium seeded and chopped green bell peppers
1 large chopped yellow onion
2 cups thawed and drained frozen corn kernels
2 seeded and diced jalapeño
3 cups heavy cream
3 lightly beaten eggs
12 baked (2 inches in diameter) buttermilk biscuits
1/2 teaspoon salt
1/2 teaspoon freshly ground black pepper
Directions
Preheat the oven to 350 °F. Butter a 13 by 9-inch baking dish.
Sprinkle 1/2 cup of the blue cheese into the baking dish. Melt the butter in a large skillet over medium-high heat. Add the green peppers and onion and sauté until softened, about 5 minutes. Stir in the corn and jalapeños and cook for 1 minute more. Take the skillet off the heat and allow the mixture to cool.
In a large bowl, mix the cream and eggs. Crumble the biscuits and the remaining 1 1/2 cups blue cheese into the custard and stir to combine. Stir in the sautéed vegetables and the salt and pepper. Pour the mixture into the baking dish. Bake until golden and set in the middle, 50 to 60 minutes. Remove the dish from the oven and serve hot.