Berry Parfaits with Coconut Granola
By
Deen Brothers
JUMP TO RECIPE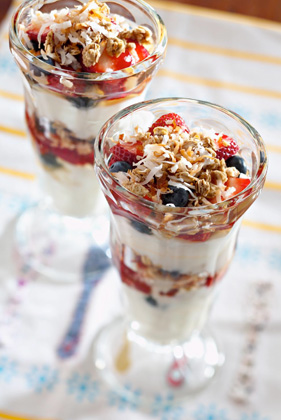 Featured in:
The Deen Bros. Y'all Come Eat
Difficulty: Easy
Servings: 2
Ingredients
1/2 cup sweetened flaked coconut
1 cup granola
1 cup vanilla yogurt
1/4 cup honey
8 large fresh strawberries
sliced
1 cup fresh blueberries
Directions
Preheat oven to 325°F. Spread the coconut in a rimmed baking pan. Bake for 3 to 5 minutes or until golden brown, shaking the pan occasionally. Stir the coconut and granola together in a small bowl; set aside.
Place 1/4 cup of the yogurt in each of two tall parfait glasses. Spoon 1 tablespoon of the honey in each glass, followed by 2 of the berries, then one-fourth of the coconut-granola mixture. Repeat, layering the rest of the yogurt, honey, berries, and granola mixture in the glasses. Serve with long spoons.