Barbecue Baked Bean Casserole
By
The PD Web Team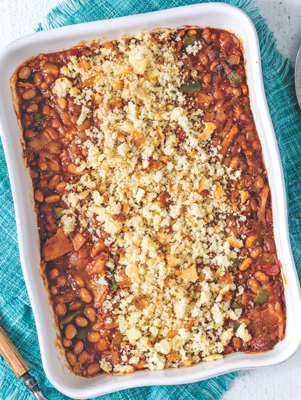 Prep time:

10 minutes

Cook time: 60 minutes
Servings: 10 to 12
Ingredients
2 tablespoons extra-virgin olive oil
1½ cups chopped yellow onion
1 medium green bell pepper, chopped
2 pounds shredded pork
1 (28-ounce) can baked beans with bacon
1 cup barbecue sauce
2 tablespoons tomato paste
1 tablespoon Worcestershire sauce
2 cups crumbled cornbread
Directions
Preheat oven to 350˚. Spray a 13×9-inch baking dish with cooking spray.
In a large skillet, heat oil over medium heat. Add onion and bell pepper; cook, stirring occasionally, until vegetables are just tender, 4 to 5 minutes. Remove from heat; stir in pork, beans, barbecue sauce, tomato paste, and Worcestershire until combined. Spoon into prepared pan. Loosely cover with foil.
Bake for 30 minutes. Top with cornbread. Bake, uncovered, until lightly browned, about 10 minutes more. Let stand for 15 minutes before serving.