Baked Feta Pasta
By
Paula Deen
JUMP TO RECIPE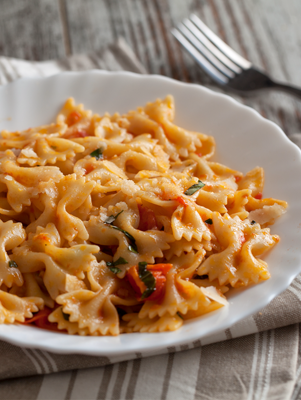 Difficulty: Easy
Prep time: 10 minutes
Cook time: 40 minutes
Servings: 4
Ingredients
1 lb bowtie pasta, or pasta of your choice
½ cup olive oil, plus more for finishing
2 boxes cherry tomatoes (around 20-25 ounces)
1 (8-ounce) block feta cheese
2 cloves garlic, finely chopped
red pepper flakes, to taste
1 handful fresh basil leaves
salt, to taste
black pepper , to taste
Directions
Preheat oven to 400˚F. In an 8″ x 8″ baking dish, toss whole cherry tomatoes with olive oil, salt, and pepper until coated.
Place feta in the middle of the tomatoes and top with a bit more olive oil and some freshly cracked black peppers. Bake for 30 minutes before turning the temperature up to 450˚F and baking for another 5-10 minutes, or until the feta and tomatoes are browned.
Meanwhile, prepare pasta according to directions, and strain it well, reserving some of the pasta water.
After baking, remove the cheese and tomatoes from the oven and add the garlic and red pepper flakes, stirring as the residual heat cooks the garlic and releases the flavors from the red pepper flakes.
Stir in the pasta and finish it with fresh basil, a bit more olive oil, and salt and pepper to taste.
Cook's Notes: If it's too dry after cooking, add some of the pasta water until it's a consistency you love!