Baked beans
By
Paula Deen
JUMP TO RECIPE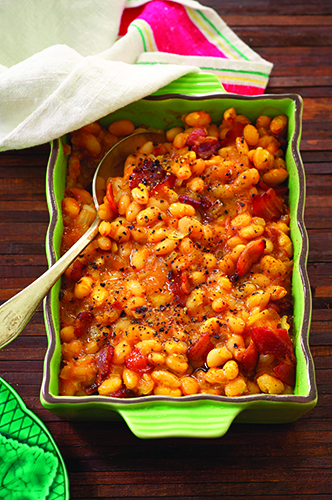 Difficulty: Easy
Prep time: 10 minutes
Cook time: 1 hour
Servings: 4
Ingredients
6 slices diced bacon
2 cups chopped onion
1/2 teaspoon salt
1/4 teaspoon black pepper
2 cans drained and rinsed pinto beans
1/4 cups brown sugar
2 cans diced tomatoes with green chilies
1 cup water
4 (28 oz) cans drained and rinsed pork and beans
Directions
Preheat oven to 350º.
In a Dutch oven, cook bacon over medium heat until browned and crispy. Add onions and a dash of salt and pepper. Allow to cook for a few minutes.
In a large bowl, mix together pinto beans, brown sugar and diced tomatoes. Add to Dutch oven and let cook.
Add 1 cup of water and pork and beans to pot. Bake for 30 minutes.