Bacon-Wrapped Chicken with Sugar Snap Peas
By
Paula Deen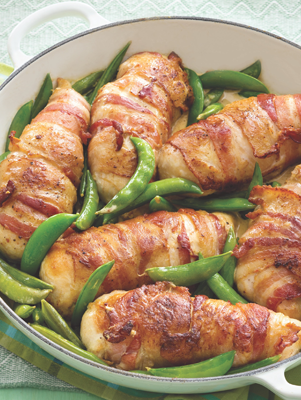 Prep time:

20 minutes

Cook time: 40 minutes
Servings: 6
Ingredients
1 teaspoon salt
½ teaspoon ground black pepper
6 boneless skinless chicken breasts
12 slices center-cut bacon
2 (8-ounce) packages sugar snap peas
½ cup dry white wine
¾ cup heavy whipping cream
2 tablespoons Dijon mustard
Directions
Preheat oven to 400˚F.
Sprinkle salt and pepper all over chicken. Wrap 2 slices of bacon around each chicken breast; secure with wooden picks.
Heat a 12-inch skillet over medium-high heat. Add chicken; cook until bacon is browned, 5 to 6 minutes per side.
Bake for 20 minutes. Remove chicken from skillet; discard wooden picks.
Add peas to skillet; cook over medium-high heat until tender, about 3 minutes. Stir in wine.
In a small bowl, whisk together cream and mustard. Add mixture to skillet; cook until thickened, 2 to 3 minutes. Return chicken to skillet; cook until heated through. Serve immediately.