Apple Dumplings
By
Paula Deen
JUMP TO RECIPE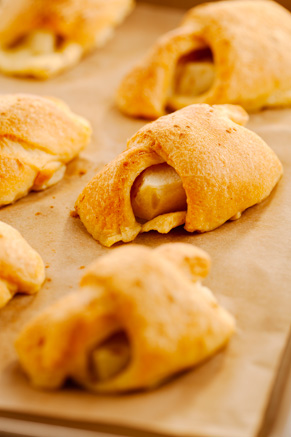 Difficulty: Easy
Prep time: 15 minutes
Cook time: 15 minutes
Servings: 15
Ingredients
2 cans crescent rolls
2 Granny Smith apples
1 stick butter
½ teaspoon cinnamon
1 ⅓ cup sugar or sugar substitute
1 (12-oz) Mountain Dew
Directions
Preheat oven to 350 °F.
Peel and core apples. Cut each apple into 8 wedges. Roll each wedge in a crescent roll. Place rolls in a 9 x 13 baking dish. In small saucepan melt butter. Once melted add sugar (or substitute) and cinnamon. Mix well. Spoon over crescent rolls. Pour soda over rolls. Bake for 45 minutes.
Notes from the Paula Deen Test Kitchen: Some sugar substitutes are more difficult to mix in butter than sugar. Mixes better if butter is melted. In a small mixing bowl, whisk together melted butter, sugar substitute and cinnamon. Remove the dumplings to a wire rack after cooking as the liquid still in the baking dish will make the dumplings soggy. The Apple Dumplings taste like mini apple pies.