Adobo Shrimp Tacos With Smoked BBQ Chipotle Coleslaw
By
Paula Deen
JUMP TO RECIPE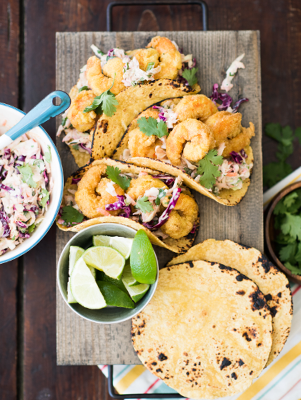 Difficulty: Medium
Prep time: 30 minutes
Cook time: 30 minutes
Servings: 30
Ingredients
1/2 cup sour cream
2 tablespoons mayonnaise
2 juiced limes
1 (16 oz) package coleslaw mix
1/4 cup chopped fresh cilantro
1 bunch (about 3 tablespoons) green onion , green tops only, thinly sliced
1 tablespoon barbecue seasoning
2 cups all purpose flour
1 cup cornmeal
1 lb medium (26–30), peeled and deveined shrimp
2 teaspoons adobo seasoning
6 (8 in) flour tortillas
for frying canola oil
Directions
For Coleslaw:
In a medium bowl, combine the sour cream, mayonnaise, lime juice, coleslaw mix, cilantro, green onions and barbecue seasoning. Mix well, then taste and adjust the seasoning, as needed. Refrigerate for about 1 hour.
For Tacos:
In a deep-fryer or heavy-bottomed pot, heat enough canola oil to come halfway up the sides of the pot, to 375 °F.
In a medium bowl, combine the flour and cornmeal; set aside. Season the shrimp with the adobo. Dredge the seasoned shrimp in the cornmeal mixture, and then add them to the hot oil 1 at a time. Fry until golden brown, about 3 minutes. Remove the shrimp from the oil and drain on paper towels. Cook's Note: If you prefer, grill the shrimp for a lighter dish.
Heat a medium sauté pan over medium-high heat. Add a tortilla, and heat for about 30 seconds on each side. Spoon about 2 tablespoons of slaw in the center of the tortilla, then put 4 or 5 fried shrimp on top and fold like a taco. Repeat with the remaining ingredients. Serve hot or at room temperature.
Notes
If making a low-fat version: substitute using light sour cream, light mayonnaise, whole-wheat tortillas and whole-wheat flour. Also, grill shrimp instead of deep-frying.