Waldorf Salad Cupcakes
By
Stefani Pollack
JUMP TO RECIPE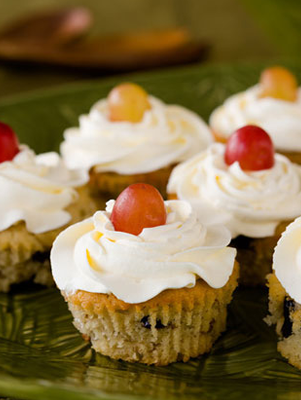 Difficulty: Easy
Prep time: 10 minutes
Cook time: 25 minutes
Servings: 18
Ingredients
1 cup sugar
2 cups all-purpose flour
1½ teaspoons baking powder
½ teaspoon baking soda
½ teaspoon salt
¼ cup unsalted butter, room temperature
¾ cup full-fat mayonnaise
⅔ cup lemon juice
¾ cup raisins
¾ cup roughly chopped walnuts
¾ cup finely chopped apples
whipped cream, to taste
9 grapes
Directions
Preheat oven to 350 F.
In a medium-sized mixing bowl, mix together sugar, flour, baking powder, baking soda, and salt.
Add in the butter, and mix until well-combined.  You should end up with a fine crumb texture. Mix in mayonnaise until well-combined. Mix in lemon juice until well-combined. Fold in raisins, walnuts, and apples.
Fill cupcake liners ¾ full. Bake for 25 minutes or until a toothpick comes out dry. Remove cupcakes from tins and set on a cooling rack to cool.
Once cool, top cupcakes with whipped cream and garnish with half of a grape.