Vanilla Bean Brioche With Vanilla-Honey Butter
By
Paula Deen
JUMP TO RECIPE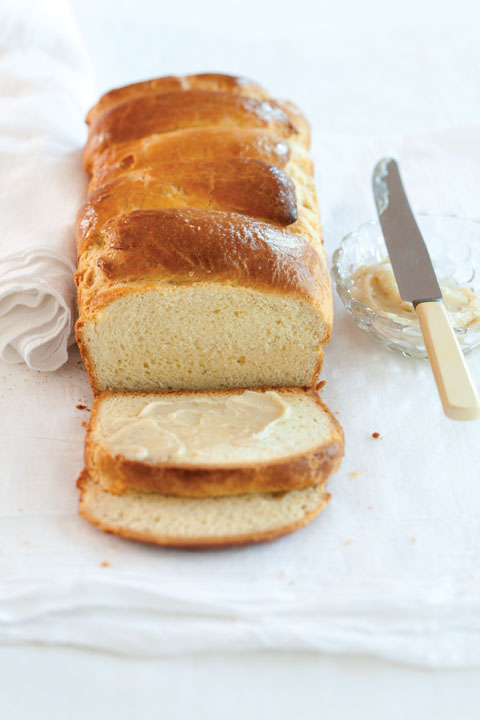 Difficulty: Medium
Prep time: 40 minutes
Cook time: 65 minutes
Servings: 12
Ingredients
Vanilla Bean Brioche
2 vanilla beans, split lengthwise
1/2 cup plus one tablespoon milk, divided
1 (1/4-oz) package active dry yeast
3 eggs, divided
3 3/4 cups all purpose flour, divided
2 tablespoons sugar
1/2 teaspoon salt
1 cup unsalted butter
Vanilla-Honey Butter
2 tablespoons honey
1/2 cup unsalted butter, softened
1 vanilla bean, split lengthwise
Directions
Vanilla Bean Brioche
Scrape seeds from 2 vanilla beans into 1/2 cup milk; heat to 110 °F. Add yeast; let stand 5 minutes or until foamy. Lightly beat 2 eggs; stir into milk mixture.
In the bowl of a heavy-duty stand mixer, stir together 3 1/2 cups flour, sugar, and salt. Using the dough hook attachment, gradually add yeast mixture, beating at medium speed until dough is smooth and elastic (about 5 minutes).
Cut 1 cup butter into small pieces; gradually add to dough, 1 tablespoon at a time, beating until combined after each addition (dough will be quite sticky). If needed, gradually add just enough remaining flour to make a smooth, sticky dough.
Place dough in a lightly greased bowl, turning to grease top; cover with plastic wrap. Refrigerate for 12 hours.
Divide dough into 6 equal portions, and form each into a 4 1/2-inch cylinder. Arrange dough pieces crosswise in a 9×5-inch loaf pan; cover and let rise 2 hours.
Preheat oven to 375 °F. Whisk together remaining egg and 1 tablespoon milk or water. Lightly brush over dough.
Bake bread for 25 minutes. Tent bread loosely with aluminum foil, and rotate in oven. Bake for an additional 35 to 40 minutes or until golden brown and firm. Cool in pan for 10 minutes. Remove from pan, and cool completely on a wire rack.
Vanilla-Honey Butter
In a medium bowl, combine honey and remaining 1/2 cup butter. Scrape seeds from remaining vanilla bean into butter mixture. Beat at medium speed with a mixer until well combined and fluffy. Serve with brioche.