The Deen Bros Lighter Macho Nachos
By
Deen Brothers
JUMP TO RECIPE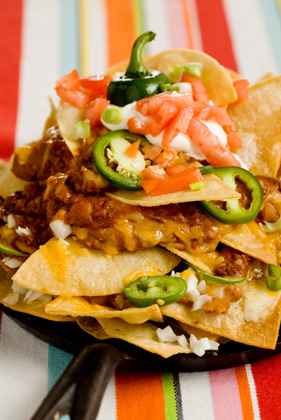 Difficulty: Easy
Prep time: 10 min
Cook time: 20 min
Servings: 8
Ingredients
6 6-inch fat-free flour tortillas
1/2 cup fat-free refried beans
1 small onion
1/2 cup reduced-fat shredded Monterey Jack cheese
1 jalapeno sliced
1 15-ounce can vegetarian chili with beans
3/4 cup fat-free sour cream
1 tomato
1/4 cup chopped scallions
Directions
Preheat the broiler. Stack the tortillas and cut into quarters. Arrange the tortilla pieces in one layer on the broiler rack; spray the tortillas lightly with nonstick spray. Broil 6 inches from the heat, turning frequently, until crisp and golden, 3 – 4 minutes.
Preheat the oven to 425°F. Transfer half the tortilla chips to a 9 x 13-inch baking pan. Spread 1 teaspoon of the refried beans on each chip. Sprinkle with half the onion, half the cheese, and half the jalapeno. Spoon half the chili over top. Repeat layering with the remaining chips, beans, onion, jalapeno, and chili. Sprinkle the remaining cheese over top.
Bake, uncovered, until the filling is hot and the cheese is melted, 12 – 15 minutes. Top nachos with sour cream, tomato, and scallions. Serve at once.