The Deen Bros. Lighter Corn Casserole
By
Deen Brothers
JUMP TO RECIPE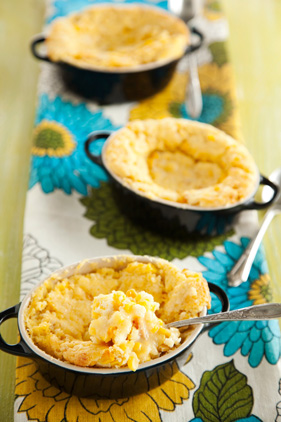 Difficulty: Easy
Prep time: 10 min
Cook time: 40 min
Servings: 8
Ingredients
2 large eggs
1 14.75- ounce can creamed corn
1/2 cup plain fat-free Greek yogurt
1/4 cup finely chopped red bell pepper
2 tablespoons finely chopped scallions
3 tablespoons melted butter
1 jalapeno pepper
1 6.5-ounce package cornbread and muffin mix Betty Crocker
1/2 cup shredded reduced-fat pepper-Jack cheese
1/4 teaspoon salt
Directions
Preheat the oven to 350°F. Spray an 8 x 8-inch baking pan with nonstick spray.
Whisk the eggs in a large bowl until well blended. Stir in the corn, yogurt, bell pepper, scallions, butter, and jalapeno until well mixed. Add the muffin mix, cheese, and salt, stirring gently to combine. Scrap the batter into the pan and bake until the edges are lightly browned and a toothpick inserted in the center comes out with a few crumbs attached, 35 – 40 minutes. Do not over bake.
Test Kitchen Tip
We like Betty Crocker Cornbread and Muffin mix since it contains less sugar than other brands. It comes in a smaller (6.5-ounce) package than the standard 8.5-ounce box. Another favorite ingredient Bobby likes to use in keeping his recipes light and lean is plain fat-free Greek yogurt. It has a thick, creamy texture much like sour cream. You can find Greek yogurt in the dairy section of your supermarket. Some popular brands to look for are Fage, Choboni, and Brown Cow.