Thanksgiving Monte Cristo
By
Paula Deen
JUMP TO RECIPE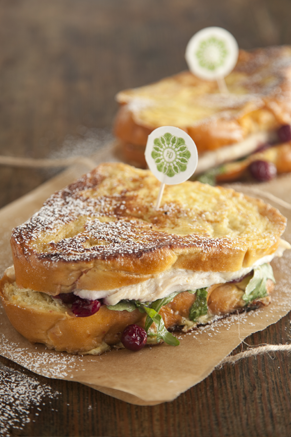 Difficulty: Easy
Prep time: 5 minutes
Cook time: 5 minutes
Servings: 5
Ingredients
8 slices potato bread
1/2 cup mayonnaise
1/2 cup whole cranberry sauce
1 cup grated fontina cheese
8 slices cooked (leftover) turkey
1 cup baby arugula
3 lightly beaten eggs
1/3 cup whole milk
1 pinch nutmeg
2 tablespoons (or solid shortening) butter
Directions
Lay the 4 slices of the bread out on a cutting board. On each slice, spread 2 tablespoons of mayonnaise and 2 tablespoons of cranberry sauce.
Sprinkle 2 tablespoons of the fontina, followed by 2 slices of the turkey on half of each sandwich.
Divide the arugula among the sandwiches and sprinkle each sandwich with 2 more tablespoons of fontina over the arugula. Top with final bread slice and press down firmly to seal in the filling.
In a large casserole dish, beat the eggs, milk and nutmeg.
In a large skillet over medium heat, add the butter. Dip each sandwich into the egg mixture, coating both sides.
When butter is melted and foamy in the skillet, add the sandwiches and cook on each side until golden brown.
Remove from pan, drain on paper towels and rest for a few minutes. Cut in half and serve.