Texas Sheet Cake with Chocolate Fudge Frosting
By
Paula Deen
JUMP TO RECIPE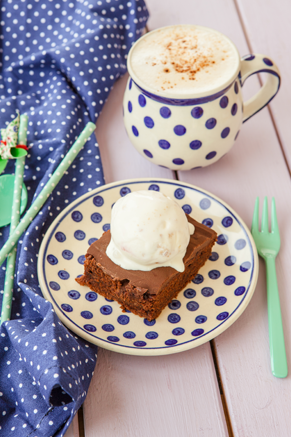 Difficulty: Easy
Ingredients
1 cup boiling water
1/3 cup sifted, plus 1/2 cup unsweetened cocoa powder
2 sticks melted unsalted butter
2 large lightly beaten eggs
1/2 cup buttermilk
3 teaspoons divided vanilla extract
2 cups all purpose flour
1 cup packed light brown sugar
2 cups divided granulated sugar
1 teaspoon baking soda
3/4 teaspoon salt
1/2 teaspoon baking powder
4 1/2 tablespoons cut into small bits butter
2 tablespoons light corn syrup
4 cups sifted confectioner's sugar
1/2 cup whole milk
Directions
Preheat the oven to 350 °F. Grease a 13 x 9 inch baking pan (with butter, oil, or cooking spray).
To make the cake: In a medium bowl, whisk together the boiling water and 1/3 cup cocoa. Stir in the melted butter. Whisk in the eggs, buttermilk, and 1 teaspoon vanilla. In another medium bowl, whisk together the flour, brown sugar, 1 cup granulated sugar, the baking soda, salt and baking powder. Fold the flour mixture into the chocolate mixture until combined. Pour the batter into the prepared pan. Bake until a toothpick inserted in the center of the cake comes out clean, 30 to 35 minutes.
While the cake is baking, prepare the frosting: In a large saucepan, whisk together 1 cup sugar and 1/2 cup cocoa. Whisk in the milk. Then stir in the cut butter and corn syrup. Place the pan over medium-high heat and bring to a boil, whisking constantly. Off the heat, stir in the confectioners'€™ sugar and 2 teaspoons vanilla.
Spread the frosting over the surface of the cake just as soon as it comes out of the oven. Let the cake cool on a rack, then serve it up.