Texas Pork Ribs
By
Paula Deen
JUMP TO RECIPE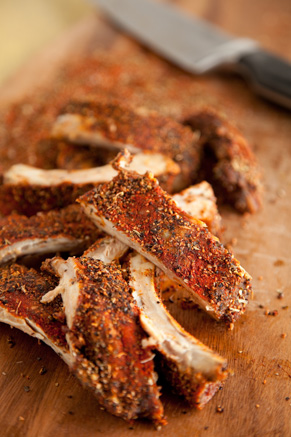 Difficulty: Medium
Prep time: 20 minutes
Cook time: 20 minutes
Servings: 20
Ingredients
2 tablespoons finely ground black pepper
1 tablespoon ground oregano
1 tablespoon paprika
2 teaspoons celery salt
1/2 teaspoon cayenne pepper
2 racks St. Louis-cut ribs
Directions
To make the rib rub, combine all the ingredients. Rub over the surface of the ribs to coat.
Preheat a BBQ pit or an oven to 250 °F.
Rub both sides of the rack of ribs evenly with the rib rub. Place on the pit or in the oven, bone side sown, and roast for about 3 hours. About 15 minutes before the ribs are done, turn the rack over and let the other side get some color. (In the oven, turn the ribs occasionally, then broil to brown.) When the ribs are done, the rack relaxes and droops when you lift it at the center. Cut the ribs parallel to the bones and serve with lots of napkins.
This recipe was provided by professional chefs and has been scaled down from a bulk recipe provided by a restaurant. We have not tested this recipe, in the proportions indicated, and therefore, we cannot make any representation as to the results.