Tender Stewed Collard Greens
By
Deen Brothers
JUMP TO RECIPE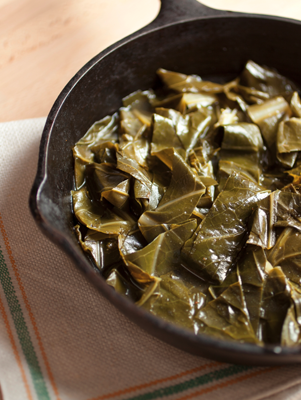 Featured in:
The Deen Bros. Y'all Come Eat
Difficulty: Easy
Servings: 8 to 10
Ingredients
2 (about 4 pounds) large bunches collard greens
2 quarts chicken broth
1 cup 2 sticks unsalted butter
2 tablespoons bottled hot pepper sauce
1/2 teaspoon salt
Directions
Stack the collard greens on top of each other, roll them up, and cut the roll into 1/2- to 1-inch-wide strips (do this in batches of 6 to 8 leaves).
In a large Dutch oven, stir together the broth, butter, hot sauce, and salt; bring to a simmer over medium heat. Add the greens; simmer, uncovered, about 1 hour or until very tender, stirring occasionally.