Tassie Cups With Lemon Curd filling
By
Paula Deen
JUMP TO RECIPE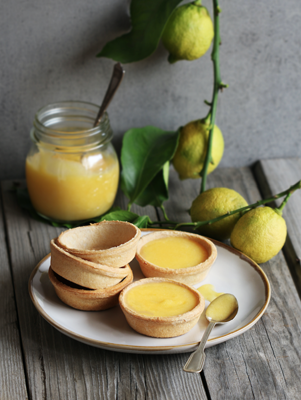 Difficulty: Medium
Prep time: 15 minutes
Cook time: 15 minutes
Servings: 15
Ingredients
1 1/2 cup all purpose flour
1/2 cup softened (or margarine), plus 1/2 cup melted for curd unsalted butter
1 (3 oz) package softened cream cheese
1/4 teaspoon salt
3 large zest and juice lemons
1 cup sugar
4 eggs
Directions
Preheat the oven to 350 °F.
For the Tassie cups: Place flour, 1/2 cup butter, cream cheese and salt in a food processor and pulse until the mixture forms a ball. Wrap in plastic wrap and chill until firm, about 1 hour.
Form the pastry into 24 small balls; press with fingers into the bottom and up the sides of ungreased miniature muffin tins. Bake for 20 minutes, until lightly browned.
Lemon Curd Filling
Grate the zest from the lemons, then juice the lemons. Place the zest and sugar in a food processor and process until combined. Add the lemon juice and eggs and process until smooth. Slowly add the 1/2 cup melted butter to the mixture, pulsing as you go.
Place the mixture in the top of a double boiler and cook over simmering water for about 5 minutes, until thick.
Remove tassie cups from muffin tins, spoon lemon curd in the center and serve. Makes 24 cups.
Cook's Note: Lemon curd will keep in a jar in the refrigerator for up to 3 weeks.