Sweet Baby Jack Carrot Cake
By
Paula Deen
JUMP TO RECIPE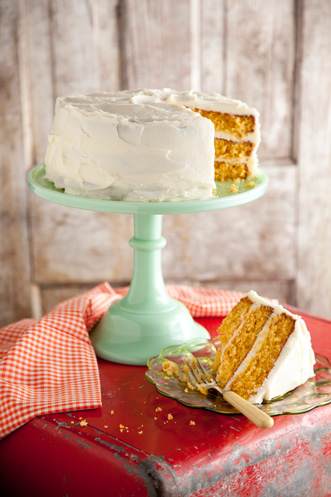 Difficulty: Easy
Prep time: 15 minutes
Cook time: 15 minutes
Servings: 15
Ingredients
2 cups self rising flour
2 teaspoons ground cinnamon
2 cups granulated sugar
2 (4 oz) jars strained carrot baby food
4 eggs
1 1/2 cups vegetable oil
1/2 cup softened butter
1 (8 oz) package softened cream cheese
1 (16 oz) box confectioner's sugar
1 teaspoon vanilla extract
Directions
Preheat oven to 325 °F. Grease and flour 3 (8 or 9-inch) cake pans.
For the cake:
Mix together the flour, cinnamon and sugar in a large bowl. Add the baby food, eggs and oil and blend well with a handheld electric mixer for about 2 minutes. Pour batter into prepared pans. Bake for 25 to 30 minutes, or until golden brown. Allow to cool in pan for 5 minutes. Invert onto lint-free dishcloth, or waxed paper, and allow cooling completely.
For the frosting:
Mix the butter, cream cheese, confectioner's sugar and vanilla with handheld electric mixer and blend until smooth and creamy.
Frost layers, top, and sides of cooled cake.