Strawberry Shortcake
By
Paula Deen
JUMP TO RECIPE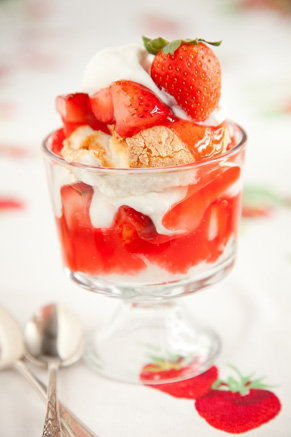 Difficulty: Easy
Prep time: 15 minutes
Cook time: 15 minutes
Servings: 15
Ingredients
1 large angel food cake
1 (8 oz) package softened cream cheese
1 (14 oz) can sweetened condensed milk
1 (12 oz) container thawed frozen whipped topping
1 cup sugar
3 tablespoons cornstarch
3 tablespoons strawberry gelatin
1 cup water
2 cups cut in half. If berries are extra large, they can be cut into quarters fresh strawberries
Directions
Slice cake, using a serrated knife, horizontally into 3 equal layers.
For the custard:
Mix together cream cheese, condensed milk and whipped topping in a bowl; set aside.
For the glaze:
In a medium saucepan, stir together sugar, cornstarch and gelatin; add water. Cook stirring over medium heat until thick. Remove from heat and allow to cool completely. Fold in strawberries.
For assembly:
Place 1 layer of cake in a large clear bowl. Top with a layer of glaze, followed by a layer of custard mixture. Repeat layering in this order for remaining cake, glaze and custard. Top cake with 3 whole fresh strawberries and fresh mint leaves.