Strawberry-Cream Cheese Stuffed French Toast
By
Paula Deen
JUMP TO RECIPE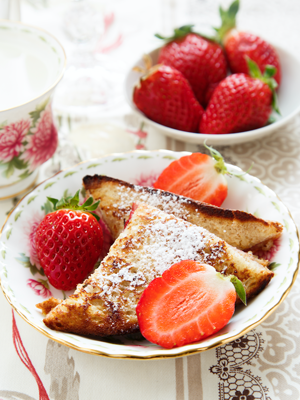 Difficulty: Easy
Ingredients
2 eggs
1/2 cup milk
1 cup plus 1/2 teaspoon granulated sugar
8 oz cream cheese
12 slices white bread
4 cups divided sliced fresh strawberries
for serving maple syrup
for serving butter
for serving confectioner's sugar
1 zested and juiced lemon
Directions
In a small bowl, whisk together the eggs, milk, and 1/2 teaspoon granulated sugar. Spread the cream cheese on half of the bread slices and top with 1 cup total strawberries. Top with the remaining 6 bread slices and press around the edges to seal.
Melt butter on a griddle over medium-low heat. Dip the sandwiches in the egg mixture for a few seconds on each side. Cook the sandwiches until golden brown, 2 to 3 minutes per side. Serve with maple syrup, Strawberry Syrup, or confectioners' sugar.
Strawberry Syrup:
In a medium saucepan, combine 3 cups strawberries, 1 cup sugar, lemon juice and zest, and bring to a boil. Lower the heat and simmer until the strawberries are soft and the syrup is thickened and reduced by 1/3 to 1/2 in volume, 15 to 18 minutes.
Remove from the heat and let cool to room temperature before serving.
Cook's Note: If a thinner syrup is desired, strain the hot syrup through a fine mesh strainer into a clean container and let cool.