Strawberry Chocolate French Toast
By
Paula Deen
JUMP TO RECIPE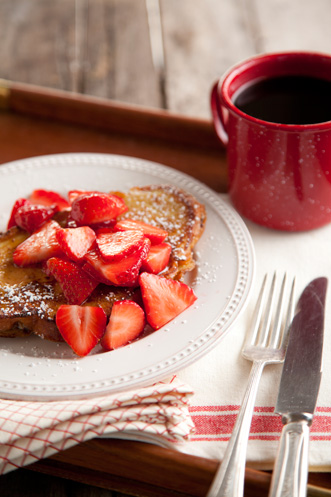 Difficulty: Easy
Prep time: 15 minutes
Cook time: 15 minutes
Servings: 15
Ingredients
1 quart hulled and thinly sliced strawberries
3 tablespoons divided sugar
1 cup milk
3 large eggs
4 oz softened cream cheese
2 (1 oz) squares chopped semisweet chocolate
2 tablespoons plus more to garnish confectioner's sugar
1/2 teaspoon vanilla extract
12 (1/2-inch-thick) slices challah bread
1/4 cup butter
Directions
In a medium bowl, combine strawberries and 2 tablespoons sugar; cover, and chill for 15 minutes.
In a shallow dish, whisk together milk, remaining 1 tablespoon sugar and eggs; set aside.
In a small bowl, combine cream cheese, chocolate, confectioner's sugar and vanilla. Spread cream cheese mixture evenly over one side of 6 bread slices. Cover with remaining bread slices to make a sandwich. Dip sandwiches, one at a time, in milk mixture.
In a large skillet, melt butter over medium heat. Add sandwiches, in batches if necessary, and cook for 2 to 3 minutes per side, or until lightly browned. Serve topped with sugared strawberries. Garnish with confectioner's sugar, if desired.