Spinach Salad with Warm Bacon Dressing
By
Deen Brothers
JUMP TO RECIPE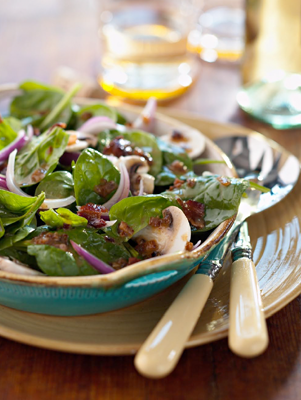 Featured in:
The Deen Bros. Y'all Come Eat
Difficulty: Easy
Prep time: 10 minutes
Cook time: 10 minutes
Servings: 4
Ingredients
Dressing
5 slices bacon
1½ tablespoons finely chopped shallots
½ cup red wine vinegar
1 to 2 tablespoons honey mustard
salt
freshly ground black pepper
Salad
8 cups fresh spinach leaves, stems removed
8 ounces white button mushrooms, thinly sliced (about 2½ cups)
½ red onion, thinly sliced
Directions
Dressing
For the dressing, in a skillet, cook the bacon over medium heat until crisp. Using a slotted spoon, transfer bacon to a paper towel-lined plate to drain. Pour off all but 2 tablespoons fat from the skillet. Heat the remaining fat over medium-high heat and add the shallots; cook for 2 minutes, stirring occasionally. Whisk in the vinegar, desired amount of mustard, and salt and pepper to taste, scraping the brown bits from the bottom of the skillet. Bring to a simmer; remove skillet from the heat.
Salad
In a large bowl, toss together the spinach, mushrooms, and onion. Pour the dressing over the salad and toss to combine. Serve warm.