Spiced Buttermilk Pie
By
Paula Deen
JUMP TO RECIPE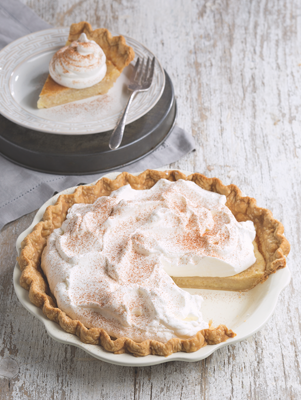 Featured in:
Paula Deen's Southern Baking
Difficulty: Medium
Prep time: 40 minutes
Cook time: 40 minutes
Servings: 1 (9-inch) pie
Ingredients
Pie
½ (14.1-ounce) package refrigerated pie crusts
1½ cups granulated sugar
3 tablespoons all-purpose flour
½ teaspoon pumpkin pie spice
¼ teaspoon kosher salt
¾ cup whole buttermilk, room temperature
¼ cup unsalted butter, melted and slightly cooled
3 large eggs
½ teaspoon vanilla extract
Topping
¾ cup heavy whipping cream, cold
⅓ cup whole buttermilk, cold
¼ cup confectioners' sugar
½ teaspoon vanilla extract
⅛ teaspoon kosher salt
ground nutmeg, for garnish
Directions
Pie
Preheat oven to 425°.
For pie: On a lightly floured surface, roll piecrust into a 12-inch circle. Transfer to a 9-inch pie plate, pressing into bottom and up sides. Fold edges under, and crimp as desired. Refrigerate for 30 minutes.
Top crust with parchment paper, letting ends extend over edges of plate. Add pie weights.
Bake on a lower oven rack for 10 minutes. Carefully remove paper and weights. Let cool on a wire rack for 15 minutes. Leave oven on.
In a large bowl, whisk together granulated sugar, flour, pie spice, and salt. Whisk in buttermilk, melted butter, eggs, and vanilla until well combined. Pour filling into prepared crust.
Bake for 10 minutes. Reduce oven temperature to 350°, and bake until set, 25 to 30 minutes more, covering with foil to prevent excess browning, if necessary. Let cool completely on a wire rack.
Topping
In a large bowl, beat all ingredients with a mixer at high speed until soft peaks form. Spread onto pie just before serving.
Garnish with nutmeg, if desired. Refrigerate in an airtight container for up to 3 days.