South Meets West Quesadillas
By
Paula Deen
JUMP TO RECIPE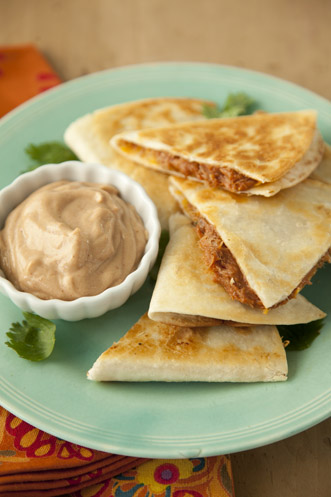 Difficulty: Easy
Prep time: 10 minutes
Cook time: 10 minutes
Servings: 10
Ingredients
1 cup barbecue sauce
1 cup sour cream
1 tablespoon olive oil
1 cup chopped red onion
1/4 cup butter
1 lb shredded barbecue pork
1 cup shredded cheddar cheese
1 cup shredded Monterey Jack cheese
1/2 cup fresh cilantro leaves
8 (10 inch) flour tortillas
Directions
In a medium bowl, combine the barbecue sauce and sour cream for the dipping sauce.
In a large skillet, heat the olive oil over medium-high heat. Add the onions and saute until browned, about 7 minutes. Transfer the onions to a small bowl and wipe the skillet clean. Add 1 tablespoon butter and the pork to the skillet and cook until heated through. Transfer the pork to a plate.
Arrange the onions, pork, cheeses and cilantro evenly on one side of each tortilla. Fold the tortillas over to cover the filling.
Melt 1 tablespoon butter in the skillet. Place 2 folded tortillas in the skillet and cook until browned and the cheese melts, 2 to 3 minutes. Flip and cook the other side until browned, 2 to 3 minutes more. Transfer to plates. Repeat with the remaining quesadillas and butter.
Cut the quesadillas into wedges and serve with the dipping sauce.