Schirripa's Eggplant Parmigiana
By
Steve Schirripa
JUMP TO RECIPE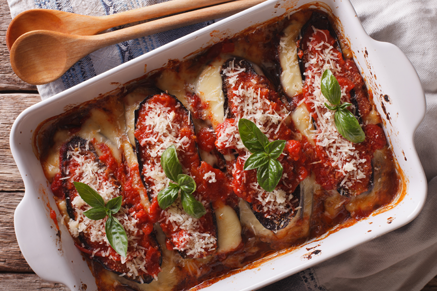 Difficulty: Easy
Prep time: 25 minutes
Cook time: 25 minutes
Servings: 25
Ingredients
1 large eggplant
1/2 cup plus 4 tablespoons, divided olive oil
2 eggs
1/4 cup milk
3 cups seasoned breadcrumbs
1 lb fresh mozzarella cheese
3/4 cups pecorino romano cheese
1 clove minced garlic
1 teaspoon water
1 (28 oz) can diced tomatoes with their juices
2 tablespoons chopped, or 1/2 teaspoon dried fresh basil
1/4 teaspoon salt
1/4 teaspoon sugar
Directions
Preheat the oven to 350 °F.
Start by cutting the top and bottom off the eggplant. Cut it into 1/8-inch slices. Whisk 2 eggs with 1/4 cup milk. Lay out 3 cups of breadcrumbs on paper towel. In a large skillet, heat 1/2 cup oil. Take each piece of eggplant and dip in the egg wash, then in bread crumbs and make sure to completely cover each piece with breadcrumbs, and then fry in hot oil. Brown each slice of eggplant. Occasionally change the oil; you don't want to continue cooking eggplant slices with burnt loose bread crumbs. Place fried eggplant on paper towel to absorb some of the oil. Slice the fresh mozzarella.
Line the bottom of an 11 by 9 inch glass pan with a layer of sauce. Place a layer of eggplant, followed by slice of mozzarella, a heaping layer of sauce, then sprinkle with a layer of Pecorino Romano cheese. Repeat, and stack about 3 to 4 eggplants high. Bake in the oven for 20-30 minutes. You know it's ready when the sauce bubbles and the cheese is melted.
Tomato Sauce:
Heat 2 tablespoons of oil in a saucepan over medium heat until it becomes fragrant. Mix the garlic with 1 teaspoon water and carefully add this to the warm oil. Sauté the garlic and cook without browning it. Add the tomatoes, bring it to a boil, and then reduce the heat. Simmer for 10 minutes. Add the basil, salt and sugar, and simmer 5 more minutes. Just before serving, blend in the last tablespoon of olive oil.