Sarsaparilla Basted Ham
By
Deen Brothers
JUMP TO RECIPE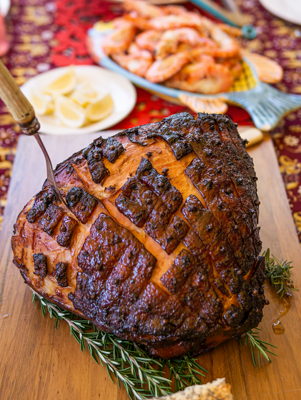 Difficulty: Easy
Prep time: 10 min
Cook time: 3 hr 30 min
Servings: 20 to 30 Servings
Ingredients
One 12-pound cured ham
1 cup pineapple juice
3 tablespoons sarsaparilla
3 tablespoons brown sugar
Directions
Preheat the oven to 325 degrees F. Score the skin and fat of the ham in a diamond pattern.
Combine the pineapple juice, sarsaparilla, sugar and 1 cup water in a small saucepan. Heat over medium-high heat, stirring frequently until the sugar is dissolved.
Place the ham in a shallow roasting pan. Baste with the pineapple juice mixture, and then bake until the ham reaches an internal temperature of 140 degrees F, 3 hours to 3 hours 30 minutes, basting with the pineapple mixture about every 30 minutes.